About Sunshine Pavers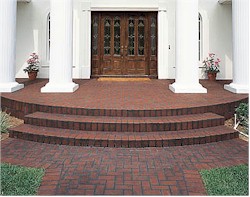 Sunshine Pavers are an unglazed wire-cut textured brick. They are fired to a semi-vitreous body making the pavers fireproof, frostproof, and resistant to abrasion and impact.
• Manufactured in a 1/2" and 1" thickness
• Suitable for exterior applications
• Coefficient of friction testing ratings of 1.03 wet to 1.08 dry
(exceeds competitors' published c.o.f. ratings)
Sunshine Pavers provide a perfect surface treatment to exterior walkways, porches, patios, pool decks, driveways, plazas, commercial and industrial lobbies, restaurant entryways, and industrial floor treatments.
Features & Benefits
• Wire-cut texture creates exceptional resistance to slipping.
• "Brick look" extruded in 1/2" thickness.
• Eleven color choices in 4 X 8 X 1/2" size.
• Antique, teakwood, flashed, industrial, "thru-body"; all are part
of the Sunshine Pavers line.
• Above average breaking and compressive strength, abrasion
resistance and resistance to freeze-thaw cycles.
---
---